Taste of the Season: Swordfish
Oct23
From now through January, swordfish are in peak season.
Sourced from Block Island off the coast of Rhode Island, the swordfish we serve at Atlantic Fish has a mild taste with a meaty texture when caught through January. This hearty fish can be prepared in a variety of different ways, but our favorite for this season is piccata-style, made with fresh lemon, capers, parsley, and served with asparagus.
If you're willing to try a swordfish recipe at home, you want to make sure the meat is firm with no dull or discolored skin when purchasing filets (or "steaks") at the store. The raw meat will vary in color, however, from a white-ivory to pink-orange color, depending on the individual fish's diet. When you get swordfish that is more on the pink side, it's likely it enjoyed a shellfish-based diet. One color isn't necessarily better over another, but it does create different nuances in flavor.
You'll want to buy steaks that are at least 1¼ inch thick so that they don't dry out. Swordfish is incredibly versatile and can be prepared in numerous ways, from kabobs and pasta dishes, to crab-stuffed filets. No matter which method you choose, always cook your swordfish to an internal temperature of 120 degrees to ensure the fish's signature soft, buttery flavor.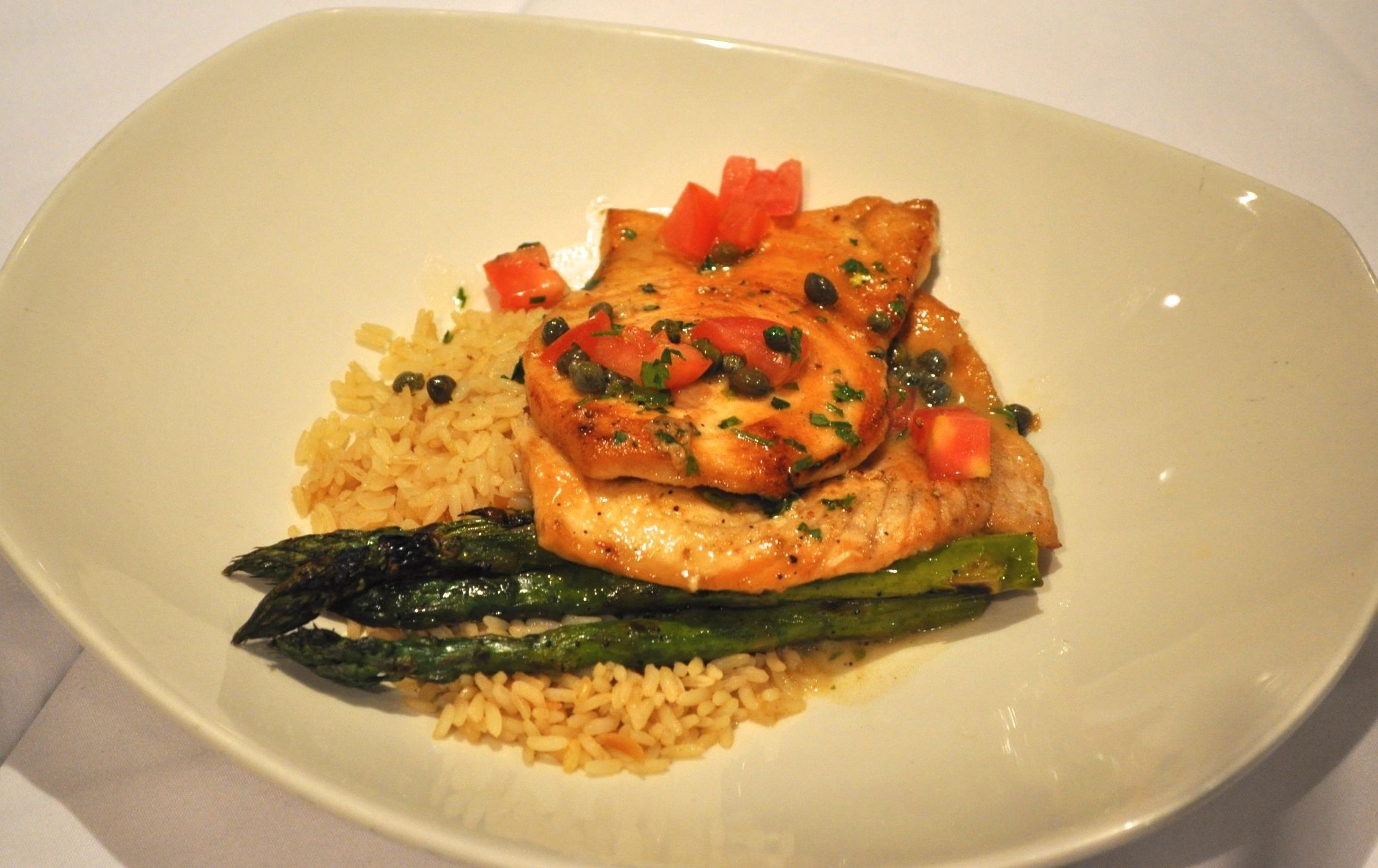 Swordfish Piccata Recipe
Serves: Two
Cook Time: 15 minutes
Ingredients
3 tablespoons butter
4 small pieces of swordfish (1/2 inch thick)
1/4 cup flour
1/4 cup white wine
2 lemons, juiced
1 tablespoon capers
2 tablespoons chopped fresh parsley
Directions
Heat 2 tablespoons of butter in a large saute pan over medium-high heat. While the pan is heating, blot the fish dry with a paper towel and then dust in flour. Saute the fish until just cooked through, about 4 minutes, flipping halfway through and add lemon juice with each flip. Remove the fish. Deglaze the pan with the white wine adding capers and lemon juice, whisking for about 1 minute. Add more butter and whisk to bring the sauce together. Pour onto the fish and garnish with the chopped parsley.
At Atlantic Fish Co., we complete our Swordfish Piccata with brown rice and asparagus.
Enjoy!